One tool to rule them all.
Marketing tools
Track Amazon Sales
Track Promotions
Automate Tweets
Publishing tools
Manage Reader Teams
Track Tasks Per Book
Track Tasks Overall
Link tracking
Track Clicks Per Book
Country-Specific Links
Automatic Common URLs
Click each tab for more information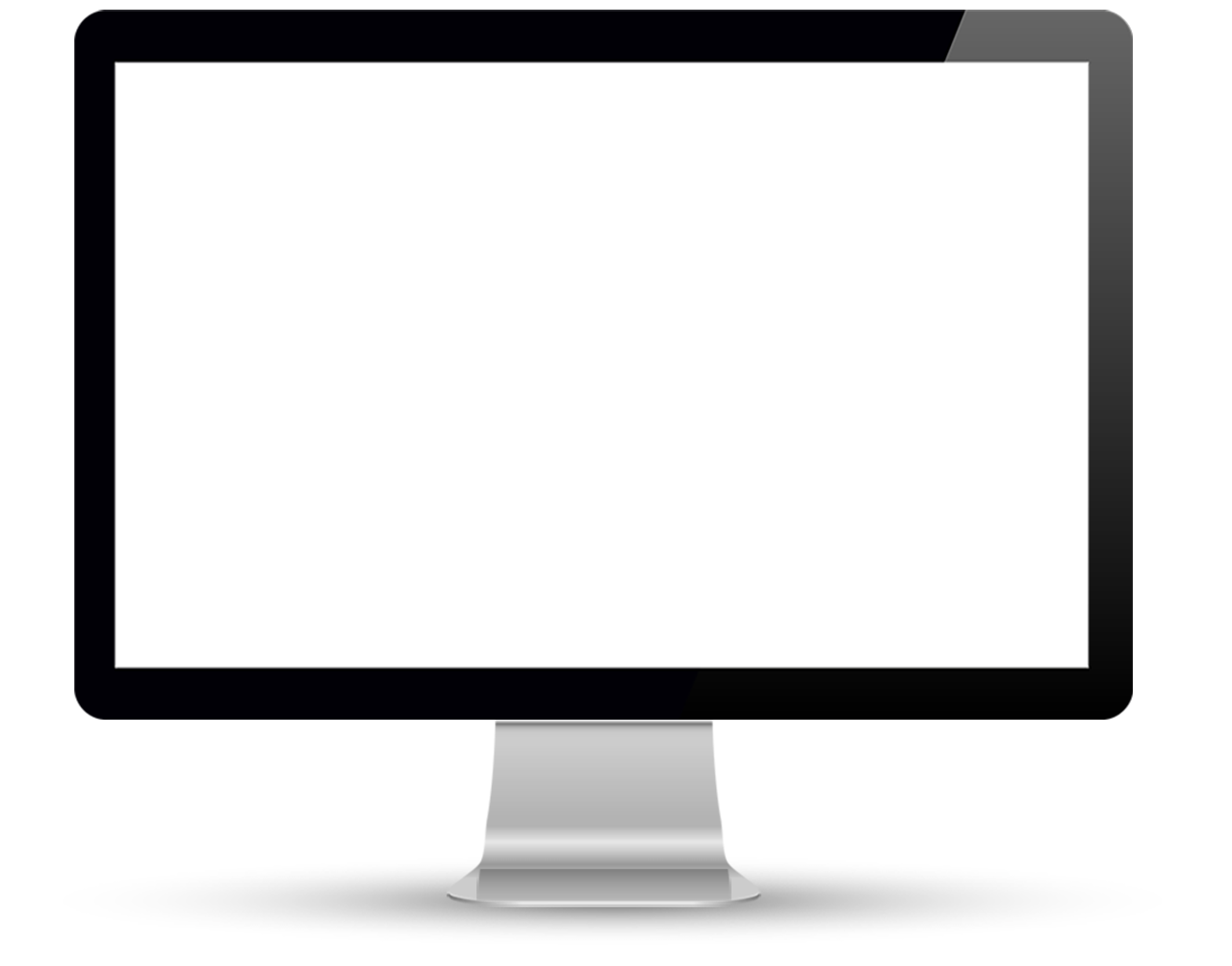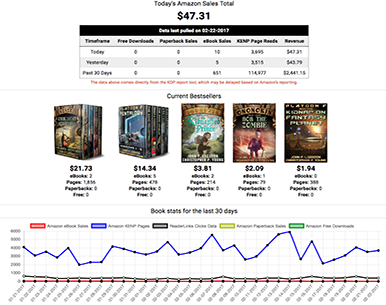 "Amazon KDP's reporting is a mess. I'd love to see my sales in an easy-to-read format."
The ReaderLinks bookmarklet lets you pull your reports into ReaderLinks where you can see sales for today, yesterday and the last 30 days. We'll break down the sales per book for you, including pages read and free downloads. Oh, and because of our robust link tools we're able to show you click data on the same graph. That means you can see which of your links are driving sales and which ones aren't!
Automatically update your Amazon KDP stats every 20 minutes.
Get an overall picture of today's sales, free downloads, and page reads.
Each book gets its own statistics as a breakdown as well!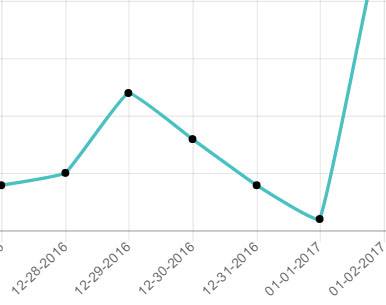 "I have a new book coming out and now I need to make dozens of new trackable links.
We created Core Links for just this reason! Core Links are links that must be made for every book you publish (i.e. a back-matter link to your newsletter sign-up page). Simply enter some basic info on the settings page and every time you add a book to ReaderLinks you'll get a bundle of useful pre-made links instantly added for that book! Of course, every new link requires a way to track performance so you can also see what's working and what isn't. Some authors use bit.ly, but that won't allow you to track performance per book. With ReaderLinks you can create a customer-friendly link that directs them based on their country. You can even make all of your links use your own domain name by using the ReaderLinks plug-in!
Track all of your links on the home page for a 30 day overall picture.
Get detailed click-tracking per book, too.
Change your links on the fly without having to republish them in the wild! Yes, really.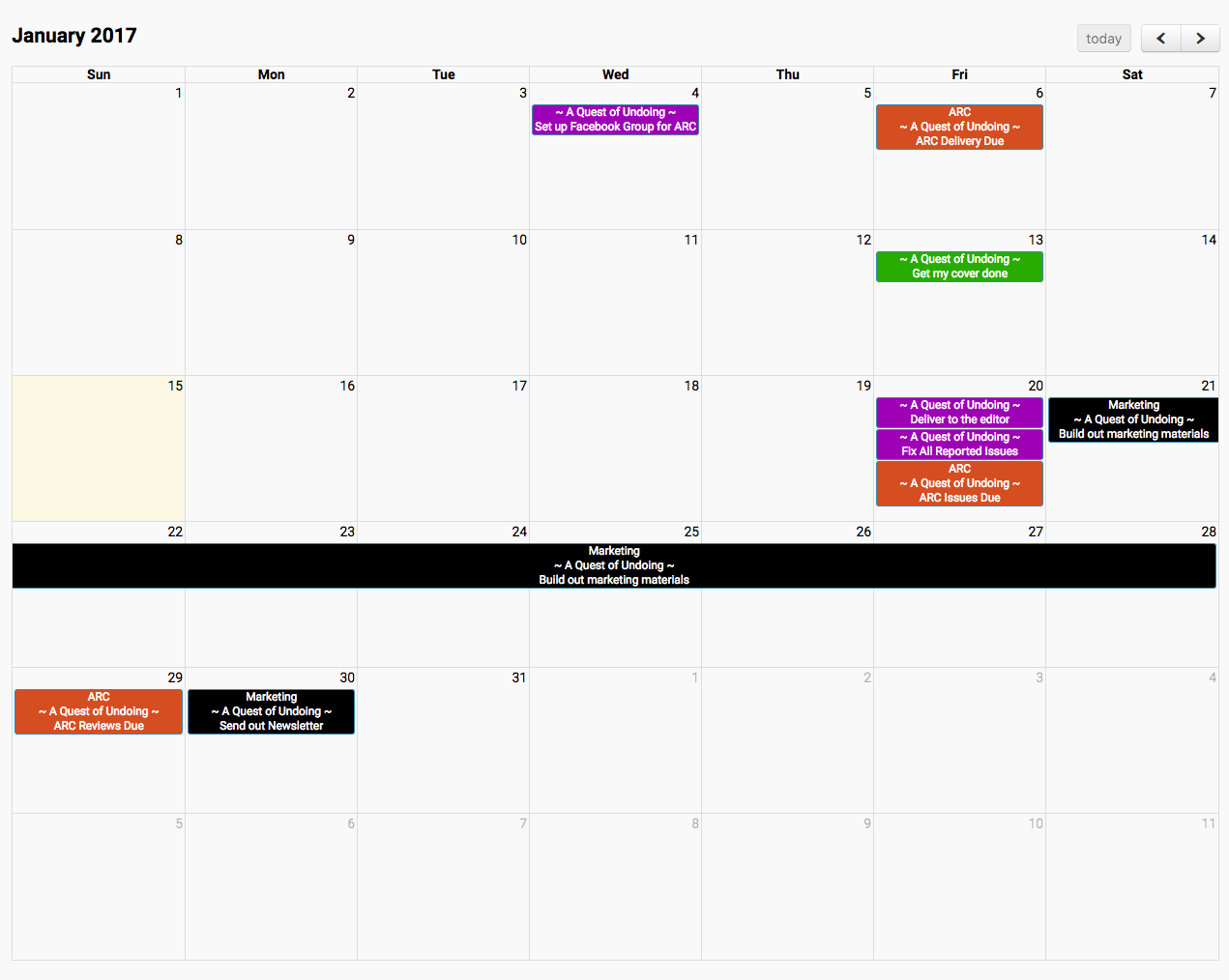 "There are so many tasks to do for every book! I keep forgetting about important stuff that I did for my last book."
Yeah, there are 1000 tasks for every book launch. Stop reinventing the wheel every time you launch a new book! Use our Core Task feature to identify to-dos that always need to get done, no matter what. Carve out time with your editor, give your cover artist the warning she needs to ramp up. If you know you'll have to do this task every time you launch a book then make it a Core Task and never worry about forgetting it again!
Book Calendar to track the schedule for one book.
Master Calendar to track the schedule for all of your books.
Core Tasks allow you to create common tasks just once and apply them to all future books.
Core Tasks allow you to make a To-Do list that doesn't need to be done on a certain date.

"With all of the promo sites out there, I wish there was a way to track my money and efforts better."
ReaderLinks provides a Promo Journal to help you track what you've done, where you've promoted, how much you spent, what worked and what didn't work. You can rank the promo sites you've spent money on so you can build on success. Use the journal to remind yourself who your point-of-contact was at BookBub, or who that writer was who wanted to do a boxed set with you. The Promo Journal ties in with the Calendar feature so ReaderLinks will be the only tool you need to see where you've been and what's next.
Rate the sites where you promote.
Track what works and what doesn't work. Build on success!
Integrates with Calendar to make it easier to keep your entries up to date.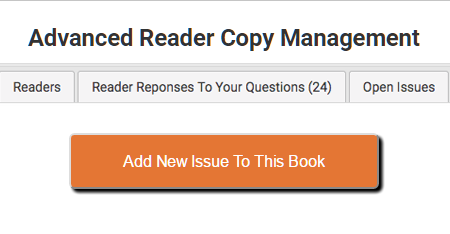 "I love my team of readers. They give me great tips when I share Advanced Reader Copies. They also help me with reviews when they're done! But, wow, what a pain to manage this project."
The ReaderLinks Reader Team Management tool is the first of its kind. It takes the headaches out of managing a team of beta readers. You can use it to communicate clearly, never miss a mistake, track reader reviews and make the whole project an opportunity to bond with fans. The tool also helps you spot which readers do what you ask of them and which ones drop the ball.
Easily invite people to join.
See all of the project's info in one place and act on it right then and there. No more cross-checking Excel!
Track the online reviews you get from the team.
Accept the readers who help you, reject the readers who just want free stuff.

"I know Twitter is useful to authors, but I'm not seeing the results I want yet. And I can't spend all day messing with it anyway!"
Success in Twitter comes from three things under your control. One, only post quality tweets. Two, post quality tweets often. Three, stop posting tweets when they stop doing well. Because ReaderLinks allows you to track the performance of links you can combine the link tool with the Twitter tool and automate your most engaging tweets. Send tweets on a regular basis (from every one hour to every 12 hours). And to make it easier to organize the top-performers, we give you the ability to create tweet categories. Now you can assign a tweet to a category like "Boxed set #1 Christmas 2017 tweets". Then you can activate or pause the tweets in that category as you please.
Automatically send your best tweets.
Organize tweets in categories to help manage your Twitter campaigns.
Focus on what works by keeping an eye on which tweets are getting engagement.